We all know how important George Harrison was to the Beatles' sound and legacy. But he was also a generous friend, a major philanthropist, and a supporter of children and the arts who came to the aid of others time and time again. George was responsible for inspiring musicians to use their talents and influence to raise awareness and money for people in need, and he founded and funded major charities as well as several classic comedic and dramatic films. Here are just a few examples of George Harrison's influence above and beyond his musical talents.
Ringo's Big Brother
During The Beatles' very first recording session at Abbey Road Studios in 1962, George sported a black eye after getting into a fight defending Ringo from a violent fan who preferred The Beatles' original drummer, Pete Best. George always had Ringo's back.
The Concert for Bangladesh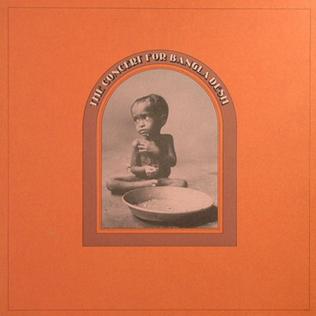 In 1971, Ravi Shankar told George about the dire genocidal situation in Bangladesh, and the refugees left homeless by the war there. He asked George if he could think of some way to help them. George said yes, he thought he could do something. That something turned out to be the world's first giant musical benefit.
The Concert for Bangladesh (actually a pair of concerts) became a huge success and was the inspiration for later benefit events like Live Aid and Farm Aid. The concert and the live album of music performed there by major artists raised millions.
George's idea inspired other musicians to use their talents to raise money to help others, and produced a megahit three-disc album featuring George, Ravi, Bob Dylan, Ringo Starr, Eric Clapton, Billy Preston, and Leon Russell.

George went on to be involved in a number of other awareness-raising and fundraising efforts as well, including raising money for and recording a song with the supergroup he co-founded, The Traveling Wilburys, to benefit Romanian orphans. He also donated income from several hit songs to Médecins Sans Frontières (Doctors Without Borders), Great Ormond Street Hospital (a major London children's hospital), and Britain's National Society for the Prevention of Cruelty to Children.

Major Film Producer
George befriended the members of Monty Python in the 1970s. He created the production company HandMade Films to produce the film Monty Python's Life of Brian. His company also produced 22 other films, including The Long Good Friday, Time Bandits, and Withnail and I.
George was a brilliant artist and composer, a loyal friend, a major philanthropist, an example to and supporter of other artists, a popularizer of world music, and a kind and generous soul.
Happy 80th birthday, George. We miss you.